We know what you're thinking. No, this isn't the time old debate about whether or not it should be on pizza.
Instead, we just wanted to tell you 10 things you might not have already known about the fruit that causes such controversy.
"These are the fruit of Kings!" - Adam Ward
The first ever record of the word 'Pineapple' dates back to 1398.
The word pineapple in English was first recorded in 1398, when it was originally used to describe the reproductive organs of conifer trees. European explorers discovered a prickly tropical fruit that they began to call pinaepples (term first recorded in that sense in 1664) because of their resemblance to what is now known as the pine cone (originally called pineapples). The term pine cone was first recorded in 1694, and was used to replace the original meaning of pineapple.
A pineapple can take up to 3 years to grow and mature into a plant.
You can only receive the fruits of a pineapples labour when it has reached full maturity, which can easily take up to three years. Even still, those grown as houseplants may be reluctant to flower and set fruit at all.
Only one pineapple is produced by a single plant in a single season
And after all that time of reaching full maturity... You get a single pineapple. Yes, a pineapple plant will only flower and fruit once per season.
A pineapple plant can stay alive and continue giving fruits for up to 50 years
So thats 50 pineapples, in total!
A pineapple is not a pine or an apple. Its actually a berry.
It's all a rouse. Technically, a pineapple is a mass of individual berries fused to a central stalk. If you want to be technical about it, pineapples are a berry.
75% of all pineapples sold in Europe are grown in Costa Rica
These are the top 15 countries that exported the most pineapples in USD throughout 2017, according to worldstopexports.com:
Costa Rica: US$980.6 million (47.1% of exported pineapples)
Netherlands: $230.9 million (11.1%)
Philippines: $172.4 million (8.3%)
Belgium: $110.4 million (5.3%)
United States: $97 million (4.7%)
Ecuador: $44.2 million (2.1%)
Honduras: $41.1 million (2%)
Mexico: $41 million (2%)
Taiwan: $37.3 million (1.8%)
Ghana: $36.3 million (1.7%)
Spain: $32.8 million (1.6%)
Côte d'Ivoire: $32.2 million (1.5%)
Portugal: $29 million (1.4%)
Panama: $18.9 million (0.9%)
Italy: $18.7 million (0.9%)
The dole plantation pineapple garden maze in Hawaii has the record for the largest maze in the world stretching over three acres.
Declared the largest Pineapple Garden Maze in the world in 2008, Dole Plantation Pineapple Garden Maze stretches over three acres and includes nearly two and a half miles of paths crafted from 14,000 colourful Hawaiian plants. The pineapple is known as the Halakahiki (foreign fruit) in Hawaiian.
The worlds largest pineapple ever recorded was in 2011 grown by Christine McCollum from Bakewell Australia. It measured 32cm long had a 66cm girth and weighed 28kg.
Weighing in at 18.25 lbs (8.28kg) is the behemoth, the ultimate, the pinnacle of pineapples pictured below.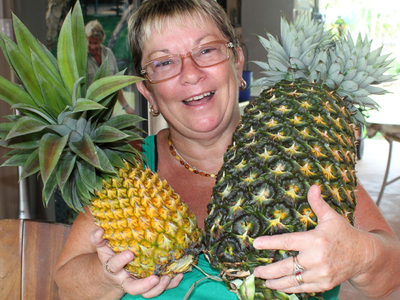 You can grow pineapple plants by slicing off the top of a pineapple and planting it in soil.
Yep. Just separate the leaves from the fruit, cut off the top, whack it into some soil and you're in business.
Sponge Bob squarepants lives in a pineapple under the sea.
It's true. I've seen it.
However, if you do want to read whether or not it is popular, have your say, we'll see you in the forums!